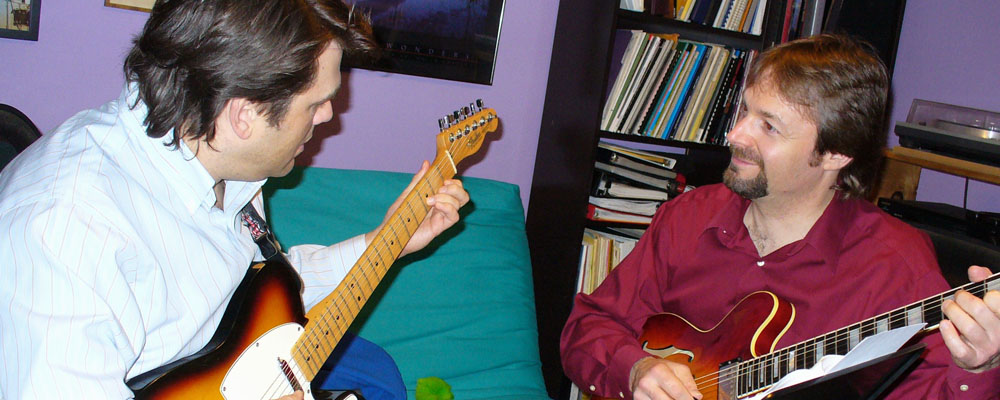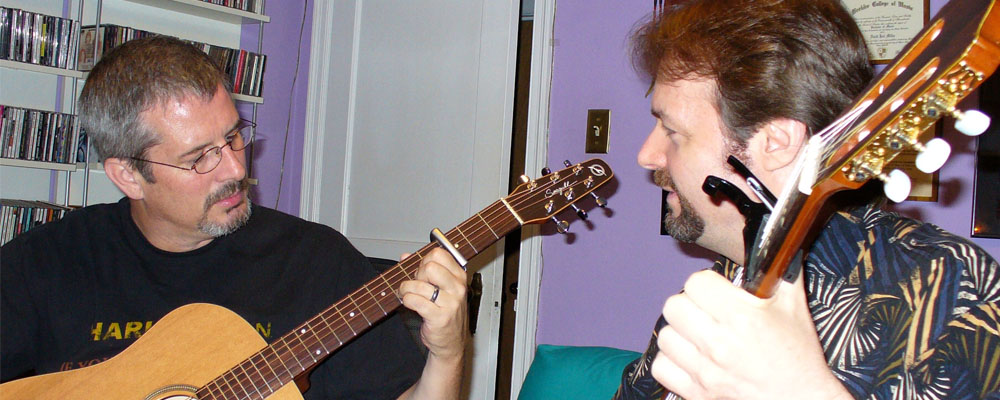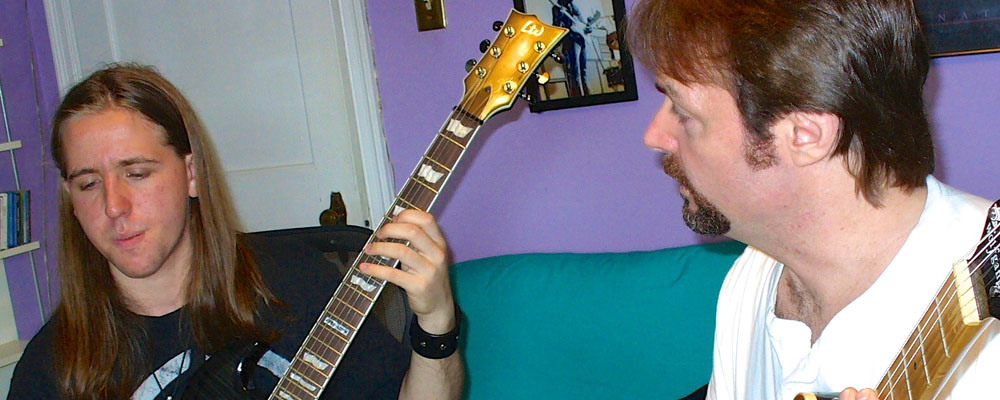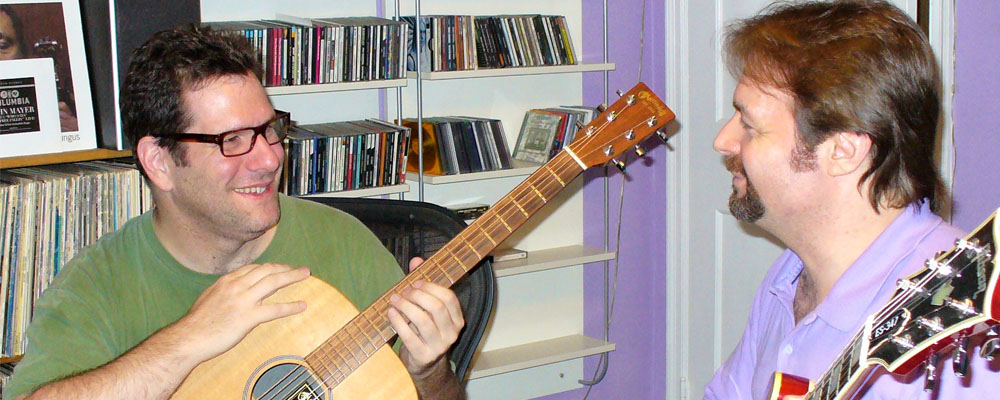 See what my students have to say...
Learn and Have Fun Playing Guitar With David Joel
Eric R.
David's approach and experience will improve your playing and musicianship
David is a thorough teacher who instructs with patience, insight, humor, and plenty of examples pulled from his extensive experience as a professional musician, composer, arranger, and band leader. He will give you the tools you need to read music, refine your technique, and develop your musicality, and he will help you expand your listening library, too. Most importantly, David will work with you to help you learn the things you want to learn, whether they're specific songs or techniques. Whether you're a beginner who's looking for a strong foundation or an advanced player looking to expand your abilities, David can help you.
Eric Ruppel
I would not have traded my experience with him for anything.
"For seven years, I would look forward to every Tuesday night when I would have my bass guitar lesson with David. Over the years, I have come to know David very well and I have learned so much from him. Kind, patient, and supportive, David would always assert his unconditional encouragement as I would drill lines or pieces of music that I would be struggling with. David would accompany the music I was studying by playing other selections of music that related historically or theoretically to the piece I was working on. I have learned so much about music theory, music playing, and life during my time with David. With all of his music education and experience from playing around the world, it only makes sense that he could supply this additional support and knowledge. He is an excellent teacher, a brilliant musician, and an inspiring mentor. I would not have traded my experience with him for anything."
Jon Aronchick
This is the guy you want to take lessons with if you are seriously committed!
After weeks of shopping around the internet for a guitar teacher, I concluded that David was to be at the top of my short list. So I emailed him and received a call back the same day. Having taken lessons in my teenage years, I was glad to hear that he uses William Leavitt's excellent method books, with which I had some previous experience, as a foundation to build on. David will take you in any direction you want to go, but he won't compromise on the academic side of things. He is, first and foremost, a *music* teacher, rather than just a guitar instructor. If you just want somebody to show you a few Led Zeppelin riffs, there are probably easier and less expensive options out there for you. And while he is among the best teachers in the region (I've had a few), he is not a magician. YOU will have to do your part and practice if you want to improve. Music literacy is a top priority in David's lesson plan, and you might not realize just how important it is until you suddenly realize that you're able sight-read actual sheet music in real time while all of your buddies are still struggling in slow motion with tablature! Put another way, he teaches you how to teach yourself, which is what all good teachers do. Don't let my review scare you into thinking that lessons with David are boring or tedious – quite the contrary! He's one of the easiest guys to talk to and you'll never feel like you're being judged. I just want to steer the best students toward the highest quality lessons I've been able to find in the area. This is the guy you want to take lessons with if you are seriously committed to music and are willing to work hard to get where you want to go.
Morgan Bound
…He gave me the confidence I needed to believe that I can play the guitar and to inspire me to continue learning.
I studied with David Joel for only a year. I had no prior musical training and the only instrument I had ever touched was the recorder. Needless to say, it was a rough beginning. However, David cared enough to challenge me. Instead of teaching me in the vague style of tab, he actually taught me how to read music and appreciate the theory behind it all. By the end of our lessons, I understood where the notes are, why they are there, and how they all relate to each other. I also learned how to change the strings of the guitar and began to tune by ear. My biggest problem was self-discipline in practicing, but David allowed me to move at my own pace while still giving a gentle and often needed push. Overall, he gave me the confidence I needed to believe that I can play the guitar and to inspire me to continue learning. All of this and he provided a fun, open atmosphere. Plus, he also does a mean caveman impression. I highly recommend him to anyone considering taking up the guitar and to anyone wanting to reach the next level in their playing!
Kristen Tkacz
I grew as a person foremost and then became a musician
My name is Greg and David Joel is my friend. He was my guitar instructor for 3 years or so. I missed about 4 lessons and made up every one of them. Now, I am not a type A personality, but David offered to me a creative opportunity I could not pass up. Within that time I grew as a person foremost and then became a musician, a novice I was. A novice I would not stay. Between the Flats and Sharps, a language of responsibility and attention is developed when learning with David. You will never be confused or feel stupid, and he will always sound better than you. Because he is such a beautiful player, no matter how long you want to travel the road he will be your guide, true mastery. Thank you, friend. I am now writing lyrics, tunes, reading music, and above else enjoying music and life on a higher level.
Greg Pierman
You can get a Berklee quality education in Northeast Philly
I have been taking guitar lessons for 5 years; David has been my instructor for the last 2 years. David has the right amount of structure and flexibility in his lessons to keep a student moving forward yet allowing the student to control some of the direction. I am extremely happy with my progress to date and would recommend him to anyone that is serious about music/guitar. You can get a Berklee quality education in Northeast Philly; that is hard to beat.
Brian Skinner
Very Patient and Experienced
David Joel is a very patient and experienced teacher. I enjoyed my lessons with him and feel that I learned a lot from him. If you want to learn to play the guitar or improve your playing skills, he is the one to go to!
Breanne Olsen
Very Best Choice
I came to study with David for two reasons. I wanted to become a better lead guitar player and I also wanted to learn how to read music. What I walked away with after studying with David for three years was much more than that. I became a much better overall musician and as a result, I developed a mastery of different pick-style and finger picking techniques I never imagined would be possible for me. When I started with David, he took the time to assess my ability and current musical level and quickly developed a comprehensive program that I still use to this day. I found David to have an excellent knowledge of music theory and to be an exceptional guitar player. Each week's lesson was built up from the previous week's lesson, and I knew he had a very specific agenda in mind. David was always exceptionally prepared. From a communication perspective, David is excellent and provides clear, descriptive summaries of his teaching examples. He is very approachable and a pleasure to work with. He is able to explain very complex musical theories to a broad audience which could range from a very technical student to someone just starting to play guitar for the first time. David's passion, behavior and dedication to his students are at level to which all guitar instructors should aspire. It is so clear to me that I made the very best choice of guitar instructors possible.
George Lopez
Excellent Teacher
After having briefly studied the guitar as a teenager, 6 months of lessons at the back of a music store, with rudiments of solfège learned at school, I thought I was able to play. But I had never listened or taken quite the time to push myself for more than okay.
I had never had the discipline and proper guidance to learn music and the instrument. So after many years of noodling I decided that either I would stop playing or I would give myself a chance and improve.
That's when I contacted David.
David was my professor for almost three years. The only reason I stopped my lessons is that I had to relocate. I would still be his student otherwise.
I remember our first lesson, the reintroduction to the instrument, notes, music. A part of me thought "I know that". But I didn't. I just kind of knew. So with David, we got back to the fundamentals of music (reading and theory) and of the instrument technique and specificities. You will read and play scales. And you'll enjoy it. You'll play music from the method book and play the tunes you like. The method book looks a bit daunting at first. It is the greatest tool and its transformative powers will grow on you.
David is passionate about music and about your learning, you'll probably have to let him know sometimes that you got his points.
He is a professional, educated in the best music schools and willing to share is immense knowledge with you. Music is demanding and fun. So is David. When my frustrations arose he was always persistent and supportive, getting me to overcome my blockages, defusing my tension with humor and his kind perspective on life.
He is always available during the week for questions and he is an unlimited source of music and advice. David is genuinely interested in you, as a fellow human being.
Overall, I think that you'll only learn as much as the mindful time you put into your practice. And to achieve your goals you need to aim high and keep at it steadily. David helps you do that. Through his knowledge, support, care, insights, encouragements as well as the discipline he gently requires.
I have definitely made significant improvements on all levels. Precision, touch, rhythmic accuracy, feel, improvisation, reading, self confidence. I can say I enjoy myself much more and feels I am a much better musician thanks to David.
Folks, if you are serious about your playing, David will get you where you want to be.
Have fun playing!
Foucauld Thery
MORE Than Just a Fantastic Teacher
There is a reality to teaching any subject that I have found to be completely obvious but also, utterly strange – that BEING great at one's craft does not necessarily make one great at TEACHING one's craft. In the two years that I spent as David's student, I never once felt any distance between David's unmistakable chops as a musician, and his ability to communicate effectively as a teacher.
To help me absorb his lessons, he could deploy a technical explanation just as quickly as a quirky analogy – anything to make the concept real to me. Once, when I found the concept of tempo and note-values especially challenging, he grabbed an old can of rocks and coins to use as a visual aid. I thought (a) this guy was crazy and (b) why on earth does he have this can of rocks and coins lying around!? However, it was not long before I grasped the idea – to which I credit his patience and resourcefulness.
All that said, what I appreciate most about the time I spent with David was the relationship itself. On one occasion, dealing with a family issue, I found that I had brought my own stress and sadness along to his studio. Sensing that I was distressed – we took a moment, together, to talk and refocus; to breathe and reacquire the moment, which I did. I then spent the remainder of the lesson tearfully playing and learning and smiling. I'll never forget that. Keep rocking David!
Michael Millar
Submit your testimonial below...